| Director | Recall YES | Recall No |
| --- | --- | --- |
| Audra Byrd, Pos. 1 | 10,528 (54.18%) | 8,902 (48.82%) |
| M. Semi Bird, Pos. 3 | 10,569 (54.38%) | 8,865 (45.62%) |
| Kari Williams, Pos. 4 | 10,344 (53.22%) | 9,092 (46.78%) |
Directors' Response to the Recall
These responses are from an August 4, 2023 article in the Tri-City Herald
Williams said the end of the recall was great news.

"The recall has been so divisive and ugly, coming off the coat tails of an already difficult time during COVID. I am so looking forward to seeing our amazing community finally have the chance to come together and heal," she said in a statement.

The Herald also asked Audra Byrd by email Thursday for her response to the latest vote count, as well as about a Facebook post with her name telling Richland parents to pull their children out of Richland schools.

The post read in part, "This is heartbreaking news for our schools and our community children. ... This will absolutely embolden our many indoctrinating teachers who already have been pushing inappropriate content on our students in secret ways. Now they have nothing to hold them back. Please do not naively keep your children in Richland School District. It will be to the destruction of their testimonies in Jesus Christ and any moral values you are teaching them in the home."

Byrd's email to the Herald did not confirm nor deny that she made the post but provided the following statement from her school district email account punctuated with a smiley face emoji: "You suck. This is my full quote. Please do not say that I did not supply you with a comment. Love, Audra."

The Tri-City Herald also reached out to Bird about the election outcome but had not heard back by Thursday night.

In a Thursday morning email blast from his 2024 governors campaign, Bird acknowledged that he had lost the recall battle.
---
What happens next?
On a five-seat board, two directors are not enough for a majority. To make a majority, the board of Educational Service District 123 (of which RSD is a part) would appoint someone to fill a seat on the Richland School Board. With three directors on the board, there would be a majority and the Richland School Board could appoint members to fill the remaining seats. The details are given in RCW 28A.343.370-Vacancies.
ESD 123 posted an article discussing the Richland School Board Appointment on August 4, 2023.
---
What was the recall about?
This recall was not about masks nor was it a partisan issue. The recall was about elected officials being held accountable for unlawful actions they took while in office.
On Tuesday, February 15, 2022, Richland School Board Directors Audra Byrd, M. Semi Bird, and Kari Williams participated in a special meeting, held a vote that was not included on the meeting agenda, and took the final action of making masks optional in Richland Schools, effective immediately. In doing so, they broke several Washington State laws and violated their oaths of office.
Video of the February 15, 2022 Special School Board meeting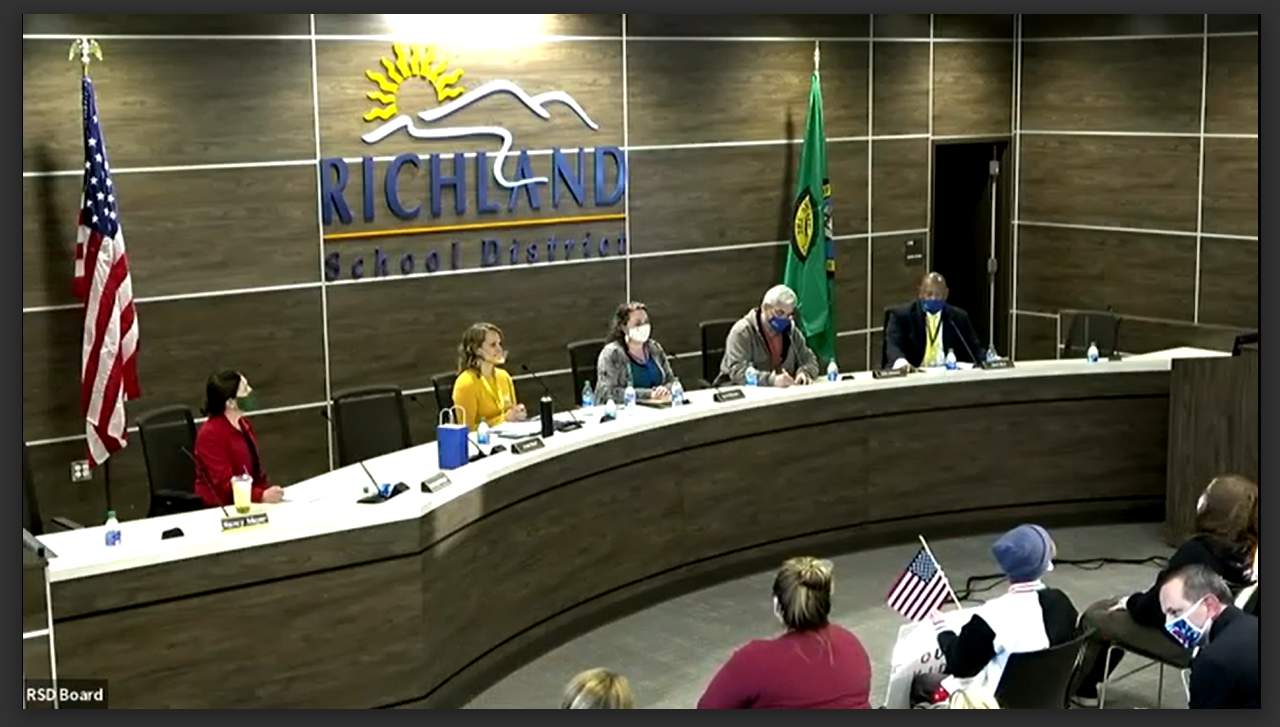 Four days before that meeting, Washington State Superintendent of Public Instruction Chris Reykdal said in an email:
"Until the statewide mask mandate is eliminated, it continues to be a willful violation of the law to enact board policy or explicit practices that remove masking or allow for noncompliance within your buildings."
There is evidence that the three collaborated before the meeting to plan for taking the vote, which is in violation of RCW 42.30, the Open Public Meetings Act.
The recall was initated April 11, 2022. It was reviewed by Benton County Superior Court Judge Norma Rodriguez on May 9, 2022 and allowed to proceed. Directors Byrd, Bird, and Williams appealed her decicion. On February 9, 2023, the Washington State Supreme Court concluded that the recall petition was "legally and factually sufficient" and signature gathering could commence. The Supreme Court opinion was published April 27, 2023.
Petitions containing a total of 18,788 signatures were submitted to the Benton County Auditor for verification on May 2, 2023. On May 19, 2023, the auditor released the following:

PRESS RELEASE FROM THE BENTON COUNTY AUDITOR

Elections Division staff appear to have validated enough signatures for each of the recall actions for Richland School District – Director 1,3 & 4. Work will continue on Monday to finalize the remaining signature verification. Election staff will not be working on the petitions on Saturday, May 20th. The Benton County Auditor anticipates completion of all 3 petitions and issuance of Certificates of Sufficiency, setting the official date of the election by the end of the day Tuesday, May 23rd.
---
This page was last updated: